Retargeting of your website visitors
Generate more conversions by bringing back
your visitors on your website and turn them
into potential customers.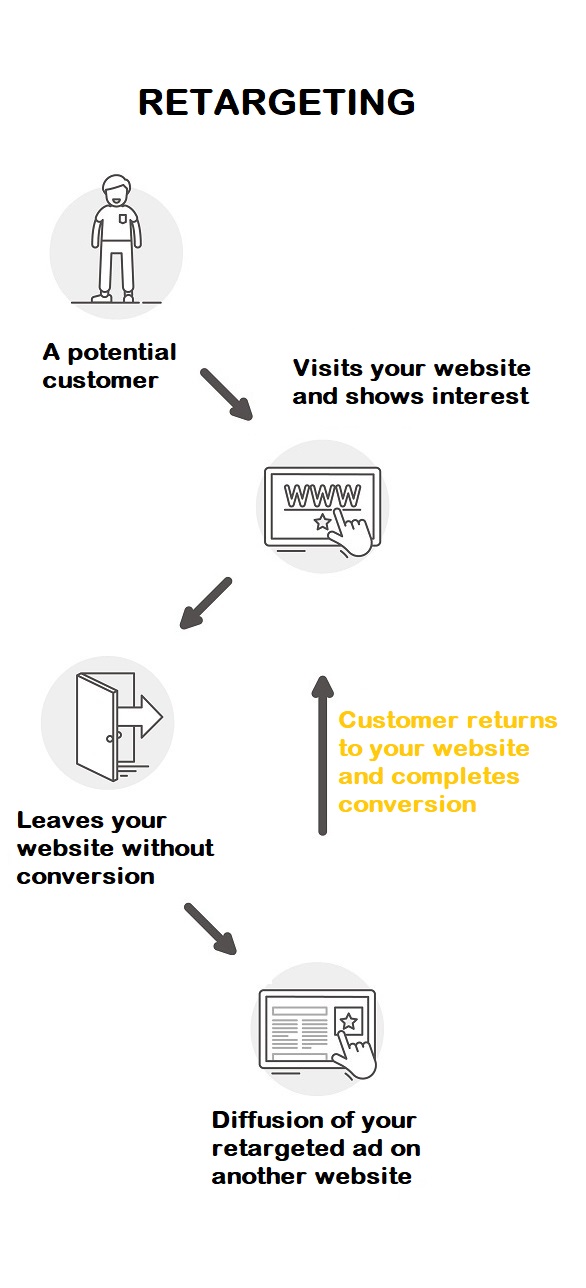 What is retargeting?
On average, only 2% of visits to most websites turn into conversion on the first visit. Retargeting allows you to reach the remaining 98% of potential customers and bring them back to your site to drive more conversions.
Retargeting is targeting a specific audience that has already shown interest in your products or services, and therefore is much more likely to return to your site. The conversion rate of consumers who have seen a retargeted ad can go up to 60%.
Combining retargeting strategies with marketing strategies can increase your sales significantly. Take advantage of Rollad Media's expertise to set up a retargeting campaign now.
How does it work?
Retargeting works thanks to a code present on your website, which will leave a Cookie on the computer of each visitor to the site. Each user is added to a specific list, which can be personalized according to your criteria and preferences. These lists can target customers who have visited a particular page or product, or who have added items to their cart without completing their purchases, to show them only relevant ads.
When they visit other websites, Cookies left on visitors' computers will indicate that a retargeted ad may be displayed. Retargeting helps you reach the right person, in the right place, at the right time.
Impacts of audience retargeting
Retargeting is an effective technique because it only targets customers who are already familiar with your brand, and who have already shown interest. The ads shown are used strategically to re-engage customers and bring them back to your website to complete their transactions. Use this technique to show off your new products or services, your new collections, or to promote brand awareness or recognition, and thereby gain the trust of your consumers. Take advantage of the proven effectiveness of dynamic personalized ads, to showcase only the products of interest to your target audience. Rollad Media offers detailed and in-depth analysis of your ad performance, to analyze the techniques that have the most impact and focus your efforts in the right place.
Our way of doing things:
The Cookies used for retargeting ensure that the retargeted ads are shown only to a specific qualified audience. This audience can be targeted according to the following criteria:
- Searched keywords
- Category or specific content of the site visited
- Type of audience (demographics)
- Targeted interests
- Similarity retargeting (sites similar to yours)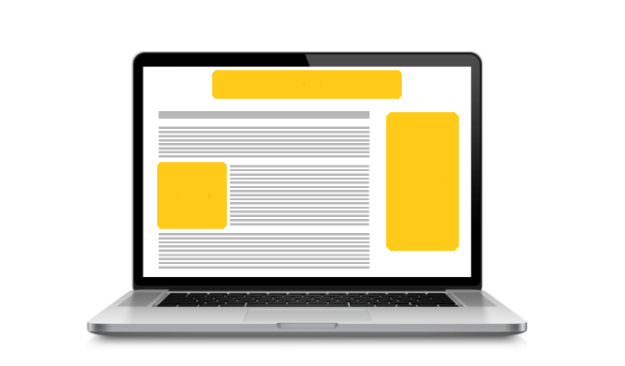 Native Ads
Native ads make sure to blend in with the site's environment for a non-intrusive experience that is more likely to reach the consumer.
Performance reports
Take advantage of precise and detailed analyzes to measure your success and identify your opportunities thanks to our personalized performance reports.
Dynamic Ads
Dynamic ads are on average twice as effective as static ads at grabbing the attention of visitors. Two different customers shouldn't share the same advertising experience, and dynamic ads ensure that the ads shown are individually personalized. Our smart solutions and software make sure to choose the best ads to show.
Retargeting and marketing strategies
Retargeting is most effective when used with other complementary marketing strategies. Your marketing strategy makes sure to attract visitors to your site, and retargeting to resuscitate their interest and bring them back if they leave without conversion. Take advantage of Rollad Media's expertise to optimize your strategies and drive more conversions.
Retargeting allows your ads to appear on the busiest social networks such as Facebook, Instagram, LinkedIn, and others. Optimize your chances of re-engaging the interest of old visitors of your website by retargeting your ads on the most famous platforms.