Google Ads and Paid Advertisements
Stand out online instantly.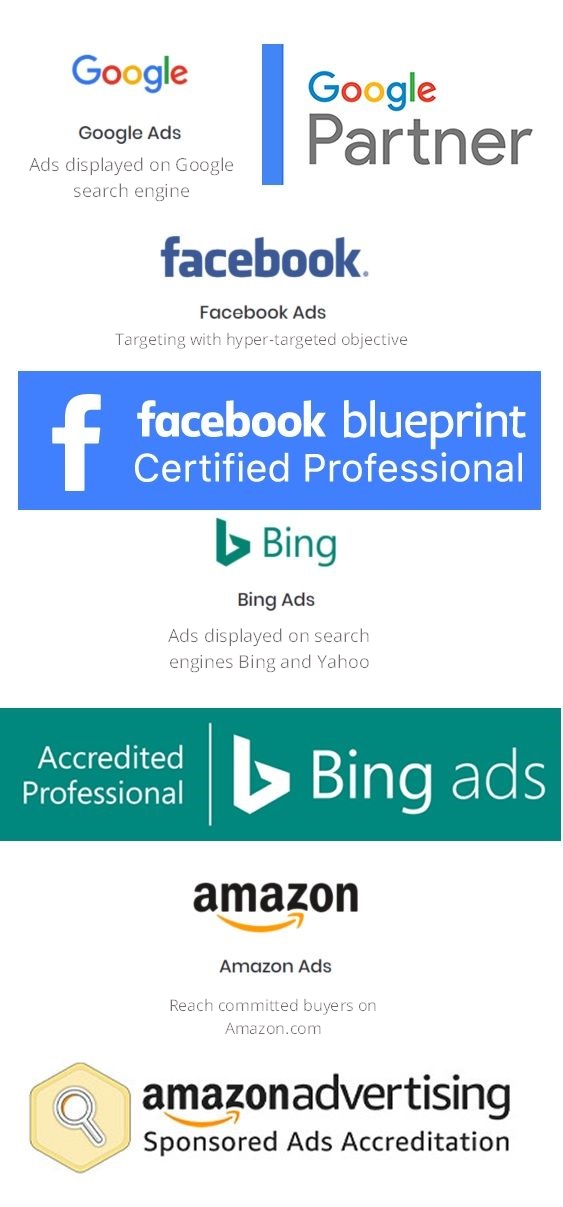 Perfect solutions for your business!
There are many contact points in the consumer's buying journey, including interest, consideration and ultimately conversion. It is essential that your brand is seen online during the entire process! Paid advertising (PPC) is used online on search engines like Googe, Bing, Amazon and even on social media.
Why are paid ads (PPC) so important? Because they connect your brand to users in their research/purchase phase. In other words, these ads ensure that your brand is seen by the right consumers at the right time!
For the next generation of search engine marketing
Research has evolved from consumers searching on their computers, tablets or mobile devices to smart devices like Google Home or Amazon Alexa. We'll not only help your business capitalize on local searches via desktop, tablet or cell phone, but also voice search - the next big advancement in digital marketing. "Hey Google, who's the best digital marketing agency?" - "Rollad Media".
Our expertise:
Paid advertising (PPC), Google Advertising (Google Ads), Microsoft Ads, Amazon Ads. We are skilled at creating engaging text and image ads, as well as optimizing Youtube video ads and Google shopping e-commerce ads.
Real people who help your business achieve real results
"The truth is that your business will get lost among all the clients of a large digital advertising agency. Rollad Media is a small agency with a lot of skills. Our agency is run by real people. Real people who listen to you and answer your needs. Real people who have your best interests at heart. Real people who strive for the best possible return on investment every day. Not to mention that we are a team of professionals with advanced and amazing skills in digital advertising!
Increase your incoming phone call volume, sales and leads with a ROLLAD digital marketing strategy. We are not only your digital marketing agency, we are also your partners and look forward to hearing about your business and your goals."
Our way of doing things:
Every dollar spent online will go towards a goal for your business. Our data-driven approach helps ensure optimal efficiency and accuracy. Your business is unique. That's why you also need a unique and personalized digital marketing strategy. Achieve your goals with a tailored strategy. Test different types of ads, keywords, bidding strategies and tactics to determine what works best and resonates most with your potential customers. Detailed monthly reports included at no additional cost! Clicks, conversions, keyword performance, ads performance, etc.
1- Setting up campaigns
Creation of advertising campaigns. If your business already has ongoing campaigns, we'll do a complete revision and restructuring for FREE to make sure we meet your goals!
2- Management and Testing
Management of advertising campaigns based on data analysis, campaign optimization to generate more conversions, targeting and audience segmentation. Constantly testing new tactics including dynamic search ads, display campaigns, remarketing and smart campaigns.
3- Performance reports
All advertising campaigns include detailed monthly reports at no additional cost. Clicks, conversions, keyword performance, ads performance, etc.
Information video on Google ADS
Information video on Amazon ads
Information video on Bing ads
Information video on FACEBOOK ads